Delivery / Selling
Selling
You will receive an attractive bid offer for your branded goods. Thanks to our worldwide clientele, we can pay top prices for both popular collections and unusual ones. To settle the agreed purchase price when taking over the goods goes without saying; we also offer cash payment in any currency of your choice upon request. The entire transaction is processed with the utmost discretion.
Delivery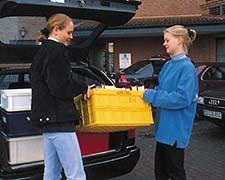 If you are looking for a suitable framework for handing over a high-quality collection, auction house MIRKO FRANKE does offer such suitable platforms. Once you have handed over your branded goods to us in trust, we guarantee you a high degree of security. On request, we are happily willing to guarantee you a minimum price.
Attractive sales commissions
In contrast to other auction houses that keep 15 or 20% of the auction proceeds in form of sales commissions even with high-quality consignments, auction house MIRKO FRANKE is known for commissions that are delivery-friendly. The current rates can be found in the trade press or in the terms and conditions of the auction. Therefore, you should compare both the surcharge level and the commission rates before you decide on choosing an auction house.
Preparation for a delivery
Preparation for a delivery Preparing a list of objects to be delivered is useful, but not necessary. Write down all of your collections and the value of every item using lists; even correctly calculating catalogue prices is very helpful to us. Previous knowledge of stamps or knowing when a delivery is coming in are not always enough to carry out this preparatory work. This poses no problem either; even collector's stocks and inheritances that are not listed and have not been valued are taken over by us and processed very carefully to guarantee the best proceeds. You will not be charged for any additional costs.
The process from the arrival of the consignment to the auction
Your consignment will be carefully processed by us. Our team of specialists will view your collection or individual items, and the starting prices will be fixed. The individual lots will be carefully registered and entered into our database ith a short description for the catalogue. Each item is allocated to a lot number. This lot number will be given to you together with our delivery confirmation. The most attractive pieces are selected by us and photographed for the illustrations in the auctioning catalogue, which are partly in colour.
The auction catalog
The auctioning catalogue is our most important advertising medium. It is printed several thousand times. We send this catalogue to our consignors to confirm what has been added to the auction. At the same time, our customers all over the world receive our catalogue so that their submitted bids in writing arrive well before the auction starts.
Payout of proceeds
The lists of results will be printed out immediately after the end of the auction and made available to all interested parties on request. Therefore, shortly after the auction, you can find out what sales performance your brands have achieved. About 6 weeks after the auction, you will receive payment, usually by cheque, but on request cash or bank transfer is possible.
In any case, the transaction is handled discreetly. It may, of course, not be possible to auction off all the lots from your consignment. Together with the invoice, we will make you an offer to sell us your unsold lots.
You are free to accept this offer, to deliver the stamps at a reduced price for the upcoming auction or to keep the stamps. In any case, we can guarantee that your whole collection will be sold.